SA Senate Predictions
June 29, 2016 | 01:10 | Federal | 2016 | Senate
The most interesting state in terms of potential cross-bench senators is South Australia. The Nick Xenophon Team is running four candidates, and has a very good chance of getting all of them elected:
SA Election Outcome Breakdown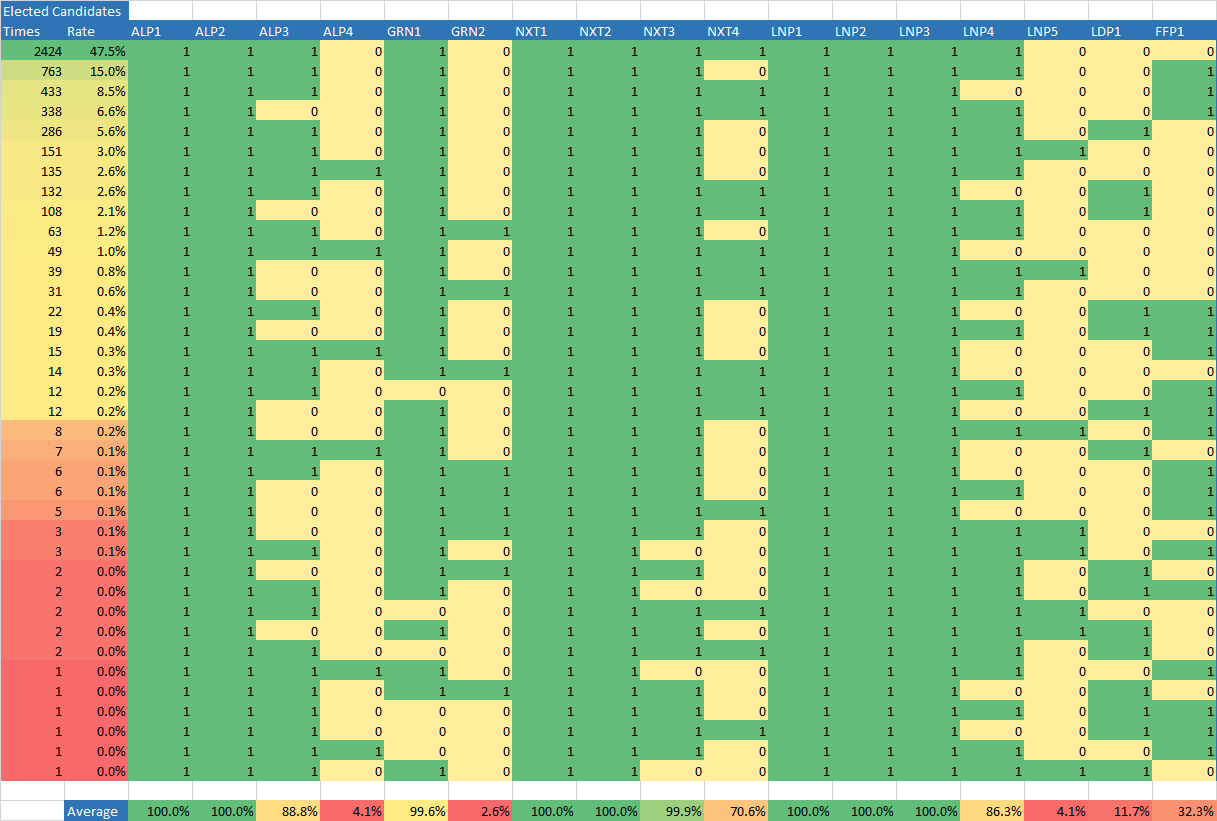 What does this mean?
Well, the LNP is guaranteed 3 seats, the ALP and the Nick Xenophon Team are guaranteed 2 seats each and The Greens will get 1 seat. The rest of them are up for grabs! The most likely outcome is:
| Party | Seats |
| --- | --- |
| Liberal National Coalition | 4 |
| Australian Labor Party | 3 |
| The Greens | 1 |
| Nick Xenophon Team | 4 |
I performed logistic regression of the outcomes and have made some curves which denote the probability of an individual party getting a seat, given their primary vote.
The Liberal Democrats

The Family First Party

All of the other minor parties should be easily eliminated, and it really comes down to these minor parties for a seat. Because of the competitiveness of the three major parties and the Nick Xenophon Team these minor parties require more than 4.5% primary to even have a chance at a seat. The Nick Xenophon Team will almost definitely get 3 seats, and has a good chance at 4. But, since he only ran 4 candidates, if his primary goes through the roof he's limited to 4. I think this was a bit of a political blunder on his part (time will tell if it was just efficiency).
NXT3

NXT4

The major parties also have different probabilities of getting their final seats based on their primary polling, let's have a look at that below:
LNP4

LNP5

ALP3

ALP4

GRN1

GRN2

The ALP requires a slightly higher vote than the LNP does to secure their 4th seat, but given the state polling, it seems unlikely the ALP will do any better than 3.
I will be publishing analysis on the other states over the next few days. Please, stay tuned!