Tactical Voting
June 30, 2016 | 14:01 | Federal | 2016 | Senate
So now we've done some simulations of the likely parties to get elected; what can we do now? Broadly, the answer is "Fill out the entire ballot paper", but if you want to save time you can just fill out all parties that have a chance of being elected. (Although, it pains me to tell you to only partially fill).
Here are some useful websites which will assist you in:
And as a little summary, here's my predictions (I'm so sorry every party is blue):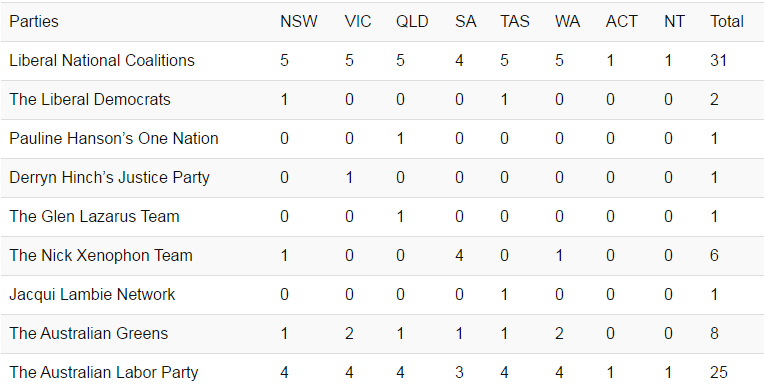 Step 1: Don't accidentally pick a candidate who will break quota
When starting your vote, avoid all candidates who are (according to my analysis) guaranteed a seat. They will (mostly) be quota breakers, and if you vote for them, the value of your preferences are decreased. It's much better to start on:
Above the Line: A minor party you really like (who won't get a quota, even better if they have no chance of getting elected)
Below the Line: The bottom candidate of said party
Below the Line: The bottom candidate of a major party (as long as they have no chance of breaking quota. Nudge nudge Nick Xenophon Team in South Australia).
Step 2: Pick a template ballot from below (please make edits where you don't like the parties / ordering)
ACT and NT (A bit pointless, the result is already decided)

Green Left: GRN > ALP > Everyone Else > LNP
ALP Left: ALP > GRN > Everyone Else > LNP
LNP Left: LNP > Everyone Else > GRN > ALP (You'd prefer Greens to ALP in this situation, right?)

NSW
VIC (these ballots are incomplete, please fill in the gaps while voting for Senator Ricky Muir)
Full Disclosure
I know / am friends with the following senate candidates (If I've forgotten anyone (HI!) please let me know)
James Jansson (NSW, Group I, Science Party.1)
Eve Slavich (NSW, Group I, Science Party.2)
Clinton Mead (TAS, Group T, Liberal Democrats.1)
Step 3: The Major Features of those votes
NSW
Left Leaning (Pro Science) ("ALP or Greens for Life") Vote
| Description & Order | Parties + Group Letters |
| --- | --- |
| Minor Parties (Won't Be Elected) | Science (I), Flux (E), Drug Related (AJ/AO), Sex Party (AG), etc. |
| Left Wing Seats (With a Chance) | Green.2 (AL), ALP.5 + ALP.6 (N) |
| Middle-Seats | Xenophon (AI) |
| Righter Middle-Seats | LDP (D) |
| All the Other parties except | … |
| Put these two last | Christian Democrats (AF), Health Australia (A) |
Right Leaning (Pro Science) ("Jobs and or Growth and or LNP") Vote
| Description & Order | Parties + Group Letters |
| --- | --- |
| Minor Parties (Won't Be Elected) | Shooters and Fishers (J) etc. |
| Righter Middle-Seats | LDP (D) |
| Middle-Seats | Xenophon (AI) |
| Right Wing Major | LNP.5 + LNP.6 (F) |
| Left Wing Major | ALP.4 + ALP.5 + ALP.6 (N) |
| All the Other parties except | … |
| I'm sure you hate the Greens | Green.1 + Green.2 (AL) |
| But still Put this one last | Health Australia (A) |
Centrist (Pro Science) ("Keep the bastards honest")
| Description & Order | Parties + Group Letters |
| --- | --- |
| Minor Parties (Won't Be Elected) | Science (I), Flux (E), Drug Related (AJ/AO), Sex Party (AG), etc. |
| Middle-Seats | Xenophon (AI) |
| Right/Left Middle Seats | Green.1 + Green.2 (AL), LDP (D) |
| Majors (With a Chance) | ALP.4 + ALP.5 + ALP.6 (N), LNP.5 + LNP.6 (F) |
| All the Other parties except | … |
| Put these two last | Christian Democrats (AF), Health Australia (A) |
Anti-Vaccination Example ("I opt out of Science")
| Description & Order | Parties + Group Letters |
| --- | --- |
| Poor Choices | Health (A) |
| All the Other parties | … |
VIC
Left Leaning ("ALP or Greens for Life, but also Ricky Muir") Vote
| Description & Order | Parties + Group Letters |
| --- | --- |
| Minor Parties (Won't Be Elected) | Australian Motoring Enthusiast Senator Ricky Muir (W), Pirate Party (J) |
| Left Wing Seats (With a Chance) | Australian Sex Party (AL) |
| Left Wing Majors | Green.2 (AK), ALP.5 + ALP.6 (D) |
| Middle-Seats | Xenophon (NXT), Derryn Hinch's Justice Party (A) |
| Righter Middle-Seats | LDP (D) |
| Right Major | LNP.5 + LNP.6 (AF) |
| All the Other parties except | … |
| Put these guys last | Family First (O) |
Right Leaning ("Jobs and Growth and Senator Ricky Muir") Vote
| Description & Order | Parties + Group Letters |
| --- | --- |
| Minor Parties (Won't Be Elected) | Australian Motoring Enthusiast Senator Ricky Muir (W) |
| Righter Middle-Seats | LDP (D) |
| Right Major | LNP.5 + LNP.6 (AF) |
| Middle-Seats | Xenophon (NXT), Derryn Hinch's Justice Party (A) |
| Left Wing Seats (With a Chance) | Australian Sex Party (AL) |
| Left Wing Majors | ALP.5 + ALP.6 (D) |
| All the Other parties except | … |
| Well, you probably want Family First? so … | Greens (AK) |
Centrist ("Keep the bastards (everyone that's not Senator Ricky Muir) honest") Vote
| Description & Order | Parties + Group Letters |
| --- | --- |
| Minor Parties (Won't Be Elected) | Australian Motoring Enthusiast Senator Ricky Muir (W) |
| Middle-Seats | Xenophon (NXT), Derryn Hinch's Justice Party (A) |
| Left Wing Seats (With a Chance) | Australian Sex Party (AL), Greens (AK) |
| Righter Middle-Seats | LDP (D) |
| Right + Left Majors | LNP.5 + LNP.6 (AF), ALP.5 + ALP.6 (D) |
| All the Other parties except | … |
| Put these guys last | Family First (O) |
Just vote for Ricky
| Description & Order | Parties + Group Letters |
| --- | --- |
| Minor Parties (Won't Be Elected) | Australian Motoring Enthusiast Senator Ricky Muir (W) |
| Chuck in the rest to keep your vote formal | … |