Mining and Pastoral, and North Metropolitan Region Predictions
March 10, 2017 | 11:50 | State | WA | 2017 | Upper-House
Here comes another hastily written article…
Mining and Pastoral Region Election Outcome Breakdown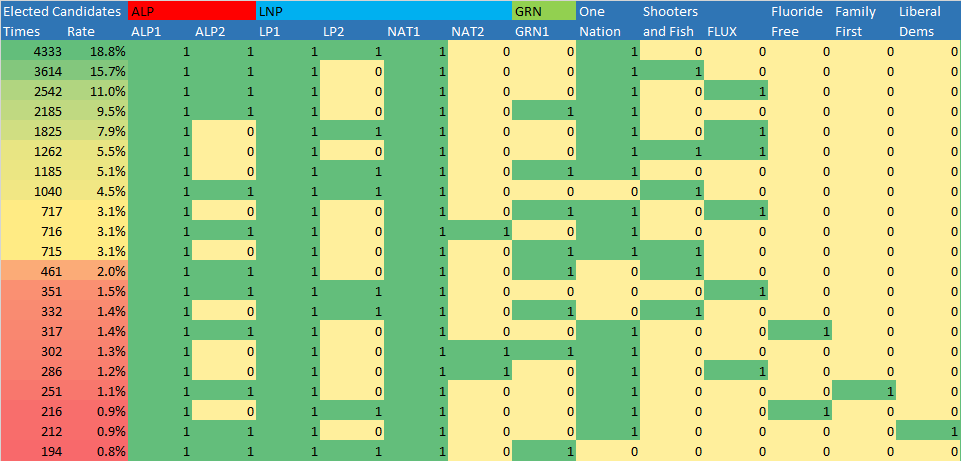 What does this mean?
Well, each of the LP, ALP and NP are guaranteed one seat each. It is likely that the ALP and one of the LP or the NP will pick up a second seat. However, the final seat (and potentially one or both of the second seats for the major parties) will fall to a minor party. One Nation is best poised to pick up a seat in this region, and very few scenarios lead to them losing (with the given swings in the polls). Of the other two potential major upset seats, the best poised minor parties are: Shooters and Fishers, FLUX (this is their best shot in all of Western Australia, so let's see if it pays off), and largely outside chances for Fluoride Free, Family First and the Liberal Democrats. The most likely outcome is:
| Party | Seats |
| --- | --- |
| Liberal Party | 2 |
| WA Nationals | 1 |
| WA Labor | 2 |
| One Nation | 1 |
I performed logistic regression of the outcomes and have made some curves which denote the probability of an individual party getting a seat, given their primary vote. The election of a FLUX candidate is stable to changes in its own vote, while being much more affected by the changes in other party's votes. Therefore a logistic regression model is inappropriate for FLUX's election probability.
One Nation

The Shooters and Fishers

The Greens

And here's a look at the major parties seat breakdowns:
Major Parties Final Seats: ALP2

LP2

NP2

The Nationals have slightly better deals than The Liberals and the ALP, needing only ~22% of the vote for an even chance at a second seat, compared with 24%. However, they are polling much worse than the other two parties.
Ok, so let's now have a look at the North Metropolitan Region.
North Metropolitan Region Election Outcome Breakdown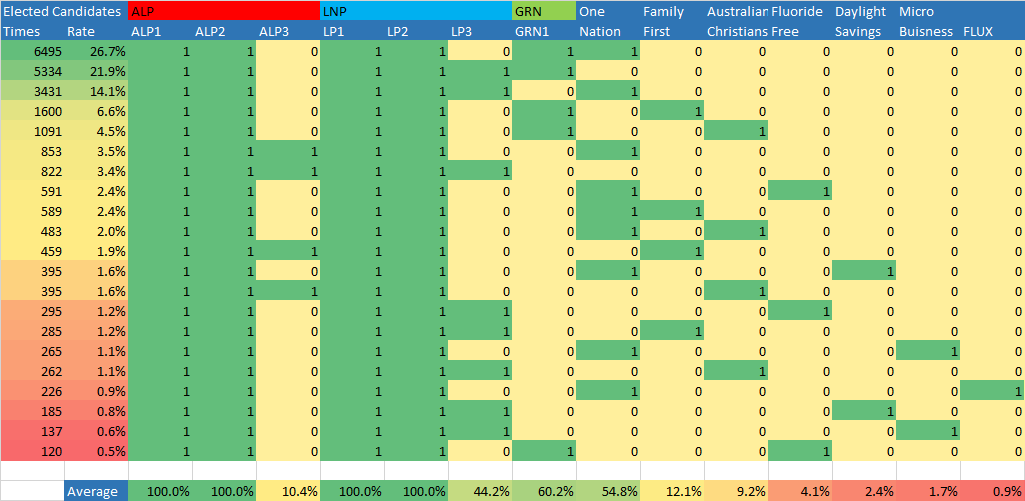 What does this mean?
Well, the LNP and ALP will pick up two seats. Then the other two seats are most likely to be two of the following: WA Greens, the third LP candidate or One Nation. Less likely scenarios involve other minor parties such as Family First, The Australian Christians, Fluoride Free, Daylight Savings, Micro Business and FLUX. Overall the most likely outcome is:
| Party | Seats |
| --- | --- |
| Liberal Party | 2 |
| WA Labor | 2 |
| WA Greens | 1 |
| One Nation | 1 |
I performed logistic regression of the outcomes and have made some curves which denote the probability of an individual party getting a seat, given their primary vote:
WA Greens

One Nation

The Australian Christians

Family First

And here's a look at the major parties seat breakdowns:
Major Parties Final Seats: ALP3

LP3

The running total of "most likely outcome" after four of the six Regions is … drum roll please:
| Party | Seats |
| --- | --- |
| Liberal Party | 7 |
| WA Nationals | 2 |
| WA Labor | 9 |
| One Nation | 3 |
| The Shooters and Fishers | 1 |
| WA Greens | 1 |
| Fluoride Free | 1 |